Why you should hire a web development company for all your internet needs
Do you have a thought bouncing around inside your brain? Something that could make an impact on other people's lives? Your company is in need to reach more customers and improve your business? It would be a pity to let your ideas stay buried in your mind or your business left down to obscurity, so why not go big and take it to the Internet?
How, you ask? Hire a web development company.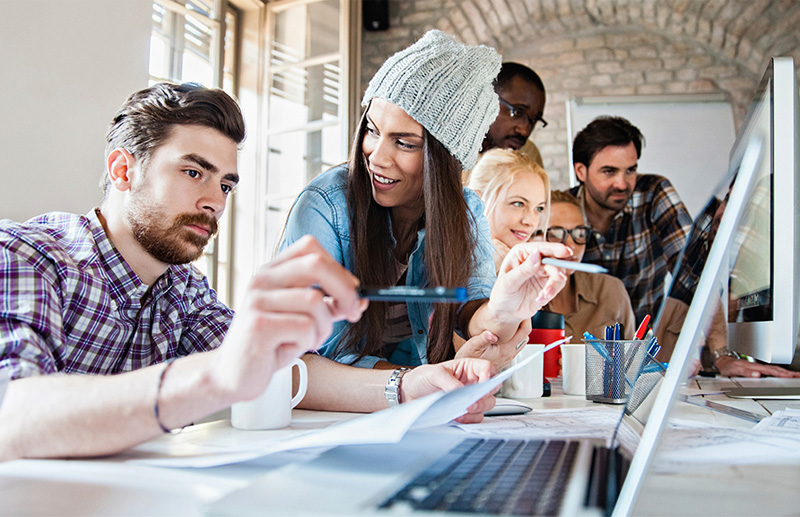 If you want to grab people's attention, drawing more customers to your business, you need to reach their desktops and phones. And the way to do that is with a website. A web development company can make one for you, making sure it reaches the desired audience.
But before you start planning your website, consider what a web development company can do for you.
Get suitable coding and aesthetics
Website development requires coding credentials and an aesthetic sense. Even if you have knowledge of these skills, you probably can't dedicate all of your time to building your own website. And if you run a small and medium businesses, you probably can't spare precious time to organize a design team. That's because web development is time-consuming.
But a web development company contains design and development veterans who are able to put together the perfect strategy for your project, quicker and more efficiently than if you were to do it yourself. They are ready to dedicate themselves to your needs in order to develop a the perfect solution for you.
Save money and get great results
When you think of taking your website project online, your biggest concern is probably how much money it will cost. And contrary to popular knowledge, entrusting your website project to a web development company will ensure that your website will be both well done and cost-efficient. That is because your web development company will deliver your website quickly, which will save you time and money that you can use on other parts of your core business.
So by hiring a web development company for your design and development needs, you can rest assured you'll get the best result: a unique user-friendly interactive website for your business.
Use the latest tools
Since your website represents you and your thoughts, it should appeal to the Internet users you intend to reach. A web development company will use the latest tools to do this for you.
Development companies use the most advanced website development software and techniques to create highly effective, user-friendly and action-oriented websites. This means your website will be responsive, which saves you from irritating your users as they wait for your website to open. Once your site loads, your creative new design will encourage them to stay.
Manage your own content
Your content is your voice. It speaks volumes about your products, and it reflects your vision of how you want to approach customers. And if it's properly formatted and written, your users or customers will intuitively understand that vision.
Recently, web development has started to include content management systems (CMS) as part of the package. A CMS acts as middleware between a database and a user through a browser. The principle benefit of a CMS is that it allows non-technical people to make changes to their website without needing much technical knowledge. This means that you will able to update your website with your content and keep to your voice.
A good web development company will also optimize your content so that it performs in harmony with search engine algorithms. This will help Internet users easily find you. That technique is called SEO (Search Engine Optiization), and should be taken into consideration when planning your new site.
Keep your website safe
Security is an essential part of website hosting. A web development company will ensure high-level security and take into account security considerations, such as data entry errors.
If ill-intended Internet users try to execute malicious practices such as SQL injections or hackers try to breach your website and collect private information like email addresses, passwords, and credit card numbers, have no fear. Your website will be ready because your capable web development company will have already encrypted your company website to fully protect it from external interference.
Save Thousands in Specialized Staff Members
Usually, a small business couldn't afford a highly qualified and experienced web development staff. But with a web development company, you can leverage the skills and expertise of professionals who continually hone their skills to keep abreast of industry and technological advances, all for a fraction of having an actual in-house web development team would cost you.
Designing and developing a safe, attractive website is a complicated process. If you can get an expert to do it for you, there's no point in risking the reputation of your brand online — the negative impression created among users would be almost impossible to erase. Instead, let the professionals take over and look forward to your new state-of-the-art website.
Looking to Hire a Web Development Company?
PKZ Media, Inc. has over 20 years of experience in Web Development, and no project is too big or too small for us! We have service packages that suits all of our customer's needs, and we would like to have you as a customer! We work hard for you, so we can build a long standing relationship and provide you with the best solution for you business or personal website. Some of our customers has been with us for over 10 years now, and we would love to have you as a customer as well.
Contact us today for a FREE 100% consultation! We will assess all yuor needs and present you with a solutions that meets all your needs, and within your budget.