Face of Wood Flooring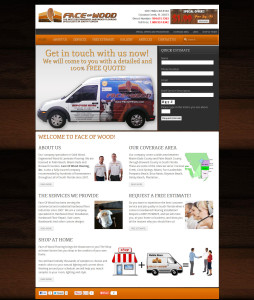 Face of Wood Flooring is a South Florida company specialized in Hard Wood and Laminate Floors installation.
Technologies Used
| | |
| --- | --- |
| | WordPress – Content Management |
What their "About Us" page says?
Our company specializes in Solid Wood, Engineered Wood & Laminate Flooring. We are licensed in Palm Beach, Miami Dade, Broward and Martin Counties. Face Of Wood Flooring, Inc. is also a fully insured company recommended by hundreds of homeowners throughout all of South Florida since 2007.
Hello! We are Anderson Santos and Luciano Soares and we are the owners of Face Of Wood Flooring, Inc. Our company is highly recommended and has retained an image of quality, professional work amongst the homeowners of South Florida. We strongly believe that part of the reason why our customers are so satisfied, is because we are hands on owners and we are there working with our qualified crew to deliver the best service possible to you.