Buzios Villas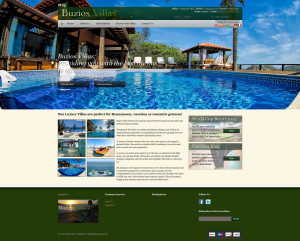 Buzios Villas is a Luxury Rental Villas website, specialized in Villas in Buzios and Rio de Janeiro, Brazil.
Technologies Used
| | |
| --- | --- |
| | Magento – Content Management System |
| | WordPress – Blog |
What their "About Us" page says?
Buzios Villas retreats are located in some of the best locations in the north coast of Rio de Janeiro in Brazil.
Though each offer their own unique and intimate settings, each of these are impeccable and comfortable accommodations with the most amazing view ever seen before, followed by attentive and friendly service.
To ensure a flawless vacation with every visit, every guest can be assigned a personal Butler, who excels in a singular ability to anticipate your every need, and to exceed your every expectation.
As soon as you arrive at the airport, up to the time you check-in for the flight home, your personal Butler will become your helpful tour planner, friendly shopping companion, and the warmth and hospitality that Buzios is renowned for.
Set amongst a wide expanse of coconut trees, every villa is the most spacious and is masterfully juxtaposed in a harmonious dance among every tree. Complemented by an exclusive 24-hour butler service that will make every effort to fulfill your every whim without being obtrusive, Buzios Villas is the perfect setting of pure serenity, utmost privacy, and unrivalled luxury.