Sun Shine Mica Woodwork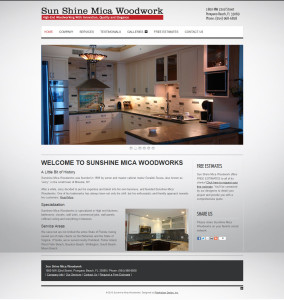 Sunshine Mica Woodworks is specialized in High end kitchens, bathrooms, closets, wall units, commercial jobs, wall panels, coffered ceiling and everything in between.
Technologies Used
| | |
| --- | --- |
| | WordPress – Content Management |
What their "About Us" page says?
Sunshine Mica Woodworks was founded in 1989 by owner and master cabinet maker Geraldo Souza, also known as "Jerry", in the small town of Mineola, NY.
After a while, Jerry decided to put his expertise and talent into his own business, and founded Sunshine Mica Woodworks. One of his trademarks has always been not only his skill, but his enthusiastic and friendly approach towards his customers.
Over the years, Sunshine Mica Woodwork has grown from a little company, to a family owned and run business in South Florida, where anyone can find custom built cabinets from kitchens, wall units, vanity, tables, offices and most if not all things you can think up to.
Now, Sunshine Mica Woodwork has an in-house Architect, Designer and 3D Specialist, that will make it easier for you to see exactly what to expect from your project.